At Wellbound, we offer multiple on-site therapies to expand your resident care services. Specialized therapy ensures your facility can provide rehabilitative care to patients returning from the hospital or rehab, patients that have suffered a fall or injury, or patients experiencing physical or cognitive decline.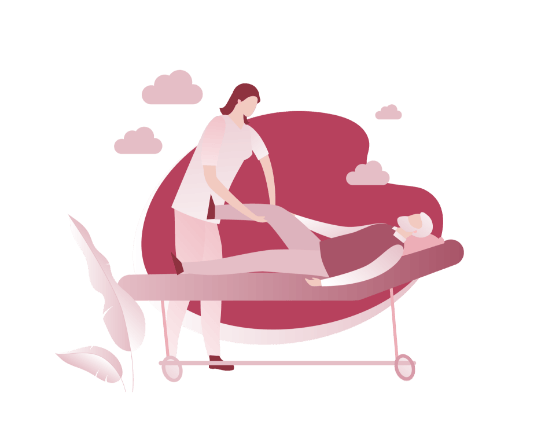 Coordinating Treatment
In addition to post-hospital or rehab treatments, our nurses coordinate with your internal community team to identify residents who may benefit from therapy services. To begin therapy assessments, each resident undergoes a comprehensive evaluation to determine need and identify any risks or comorbidities that may interfere with care.

Therapy Services
Wellbound proudly offers a range of specialized therapies along with a coordinated team of compassionate, progress-focused therapists. For Assisted Living Communities with a memory unit, Wellbound offers a specialty Memory Care Program by request.
Wellbound physical therapists work with gross motor skills such as ambulation, transfers and gait training, thereby reducing falls in the Assisted Living Community
Wellbound occupational therapists help residents build fine motor skills, such as self-feeding, dressing, and regular activities of daily living.
Wellbound speech therapists in an Assisted Living Community help residents with swallowing difficulty and reducing choking hazards while eating and drinking. This reduces risk of aspiration and pneumonia.
Wellbound's advanced Diabetic Care Program offers your community the flexibility to accept and care for insulin-dependent diabetic residents, for we provide daily and twice daily insulin injections. backed by the confidence of Wellbound's specialized care. With a multidisciplinary care approach, we coordinate our on-site nurse with your community 's case manager to ensure each resident receives the most effective care possible.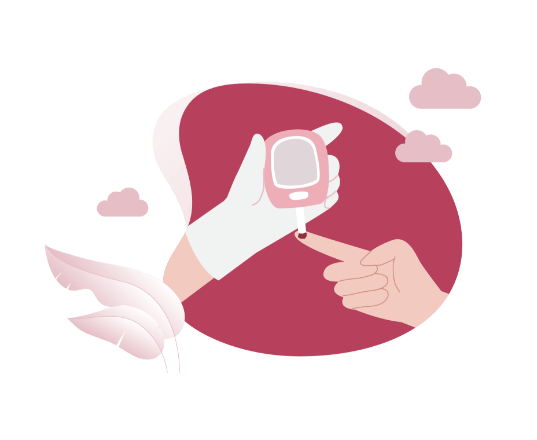 Assessment & Medication Reconciliation
Each resident in the diabetic program is given a comprehensive physical health assessment to detect any comorbidities that may affect their treatment, such as obesity or cardiovascular disease. Following assessment, our on-site nurse reconciles current medication for drug-to-drug or drug-to-food interactions.

Care Coordination & Monitoring
Our on-site nurse begins treatment by measuring the resident's A1C levels for an accurate test of hemoglobin levels—assessing the resident's disease severity for further care.
Regular, intensive monitoring and assessments ensure our diabetic residents can thrive, with coordinated care and correctly prescribed medication. Our on-site nurses communicate directly with the resident's doctors to ensure that all diabetic medication prescribed is resident-specific and effective for current blood sugar levels.
Our nurses provide regular foot assessments and podiatrist coordination for early detection of nerve damage and skin breakdown to the foot, and trend blood sugars to ensure that insulin is correctly dosed.
At Wellbound, we understand that properly identifying, monitoring, and treating your resident's wounds impacts the quality of their treatment outcome. Leveraging a care model of assessment, care planning, and on-site monitoring, our specialized Wound Care Program has a higher rate of success for healing and avoiding reinfection than standard care.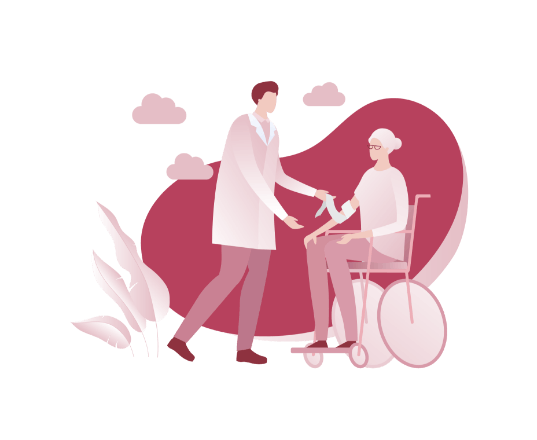 Assessment & Care Planning
Each Wound Care Program resident begins with an in-depth session with our on-site nurse to conduct a head-to-toe assessment and note any comorbidities such as: diabetes, heart disease, and poor circulation.
Following assessment, our nurse coordinates closely with the resident's doctor to decide on a treatment plan individualized to the resident's needs.

Monitoring
With on-site visits, our nurse can keep a closer track on developing conditions, including signs and symptoms of infection. Our on-site nurses keep a close track on developing conditions my measuring and reporting the residents' wounds each week, which helps identify early signs and symptoms of infection.
When necessary, the nurse will request a consultation with a wound care specialist or send the resident to a wound care clinic for further evaluation and care recommendations.

Optimizing Technology for Remote Care
Receiving the right care at the right time can be challenging—especially for the complex treatment associated with many wounds. At Wellbound, we leverage the innovation of tomorrow for better treatment today with telemedicine & technology.
Our specialized Wound Care App allows nurses to take highly-accurate photo documentation of wounds, including notation for color, drainage, and size. The secure app delivers all documentation directly to the resident's MD or specialist for clear, precise treatment orders.
All on-site nurses are equipped with the Wellbound Wound Care App for immediate use and rapid communication with off-site or in-house doctors, for better coordinated care.
Bring Better Care to Your Community.
We're here to help. Get in touch with a Wellbound team member today.